Goodbye Stranger
is the third Rebecca Stead novel I've read. I had to read one of her earlier novels,
When You Reach Me
, during an undergraduate course. I read
Liar and Spy
a while ago, and loved it, as did several of my students.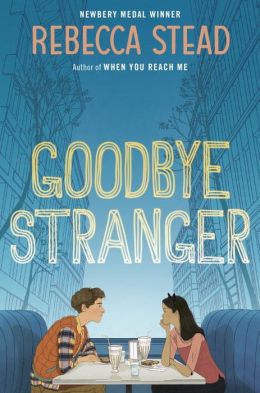 Goodbye Stranger
is about several different characters and how their stories intertwine, but at the heart of the novel is Bridge Barsamian. Bridge survived a terrible accident in elementary school and was told by her nurse in the hospital that she must have survived for a reason. So, she's hard at work trying to figure out what that reason is. Bridge has two best friends, Emily and Tab, who have been by her side through it all. However, the novel starts when they're in 7th grade and things are changing. Emily has newfound popularity and curves, and is beginning to experiment with more mature things - sending nude pictures, boys, etc. Bridge and Tab aren't quite ready for that yet, and seem a little less "advanced" than their good friend Emily. But, the three of them navigate this uncharted territory together and come out still friends in the end. This was the only mildly unrealistic part of the novel - I don't think most pre-teen friendships would survive under these circumstances. But maybe it will give readers some hope and a model of how things
could
work out.
I really loved all the different themes, conflicts, motifs, and stories that blended together during the novel. It keeps things interesting and propelled me to keep on reading. I think my students, specifically female students, will enjoy reading this novel.
Also Try:
Liar and Spy,
by Rebecca Stead;
Drums, Girls, and Dangerous Pie,
by Jordan Sonnenblick