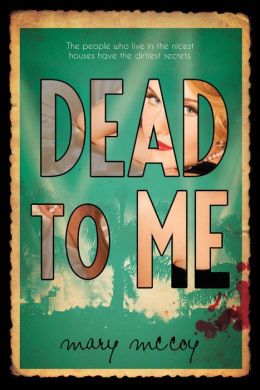 I just finished
Dead to Me
, by Mary McCoy on Netgalley. It's due to be published on March 3, 2015.
The publisher lists as ages 12+, but I think that's far too young for this book - I would put it more along the lines of 14+ as it includes lots of mature content: drug use, mild pornography, abuse, and lots of language. I'm not sure that I would house this book in my classroom because it would be inappropriate for the majority of my students.
HOWEVER, I did enjoy reading
Dead to Me
, which follows the story of Alice, a 16 year old growing up in the shadow of Hollywood's glitz and glam. Alice's father has always been involved in showbiz, and she grew up watching her parents try desperately to catapult her older sister, Annie, into the family business. Alice, though, was never quite talented or pretty enough. So it was a huge surprise to Alice when her sister disappeared mysteriously 4 years before the novel's beginning. Alice had kind of given up hopes of finding Annie, until she received a mysterious summons and indication that her sister was hospitalized and had nearly died.
After reuniting with her now-comatose sister, Alice vows to figure out the truth about what happened to Annie. This leads her on a sort of wild-goose chase through the very seediest sections of LA, introducing her to dangerous and untrustworthy characters at every turn. Alice is even introduced to drugs, a mildly pornographic photography ring, and the like. She constantly questions who she can and cannot trust.
In the end, things work out as well as they can. I found myself kind of skimming the last third of the book - it just didn't hold my attention and I knew it wasn't something I'd be recommending to my students.
Also Try:
Belle Epoque,
by Elizabeth Ross;
Strings Attached,
by Judy Blundell