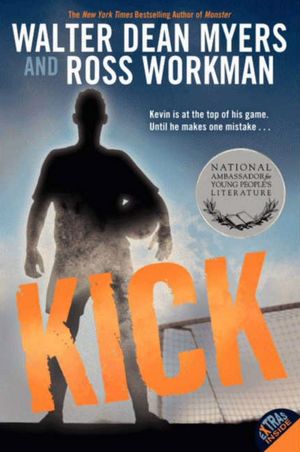 Walter Dean Myers has written a ton of novels for young adults, but what's cool about this one is that he wrote it WITH a young adult. Ross Workman emailed Myers in 2007 thanking him for his books, and from there a collaborative project began in which they wound up writing this novel, Kick, together. How awesome would it be to email your favorite author and then have them invite you to collaborate on a novel?!
Anyway, Kick is about a boy named Kevin Johnson who winds up in juvie for a string of offenses - grand theft auto and driving without a license, among others. He was driving his friend Christy McNamara's father's car (with her in it) when he crashed into a light pole and was arrested. But, Johnson is the son of a deceased police officer, and a current officer named Sergeant Brown takes special interest in his case, out of respect for Kevin's dead father.
From the beginning of the novel, it's clear that something isn't quite right about the situation surrounding the night of the arrest. There's something mysterious about Christy's father, yet both Christy and Kevin refuse to talk. This mystery and suspense really propelled the novel and kept me reading. Kevin is a pretty talented soccer player, too, and a huge portion of the novel is devoted to his games and practices. I honestly found those parts kind of boring - I was more interested in the court case.
At the end of the novel, there are a bunch of emails between Myers and Workman as they worked on the novel together. I found those really interesting to read. It was cool to see the kind of advice that Myers gave to an aspiring writing, and to read about the kinds of things they had to work through in order to get the novel published.
Some more fun info about Walter Dean Myers...he was recently named National Ambassador for Young People's Literature. That's a pretty important post, and means he'll travel the country for two years promoting literacy among adolescents. I found this article about his appointment, and it discusses Myers's childhood - he dropped out of high school, but maintained a love of books and reading, allowing him to get to where he is today.