I finally finished all the Junior Book Award Nominees!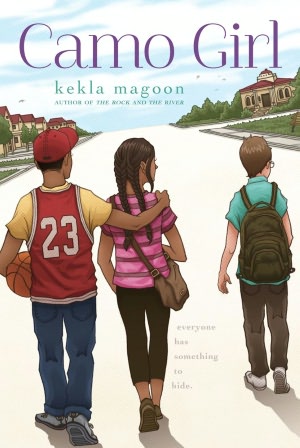 Ella and Zachary are best friends and have been for a long time. They've bonded over their issues - Ella has a physical condition which has left marks on her face (she's called "Camo Face" or "C.F." by a mean boy at school, hence the title), and Zachary's father left, rendering he and his mother homeless. They've isolated themselves from the rest of the school, and fantasize that they live in a better world where nothing goes wrong. Ella can see the reality, though, and realizes that everyone at school thinks they're freaks, but she knows Zachary, "Z", needs her, and continues to play along.
However, one day a new boy named Bailey James - the only African American at the school aside from Ella - enrolls at their school and he offers Ella a chance to break out of her "freak" status. As he and Ella become friends, she realizes that he has his own issues, too, despite his popularity at school. Will she take a chance and leave Z behind, or will she stick by him?
I really enjoyed this book and loved the way Ella and Z's relationship is portrayed. I also thought that Magoon did a great job of showing real middle school characters - the scenes and the things her characters said/did were very realistic.