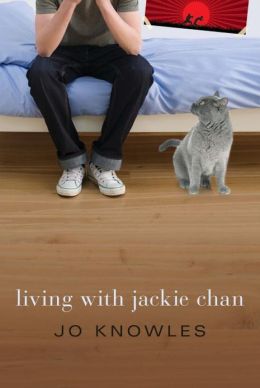 Good news and bad news about
Living with Jackie Chan
, by Jo Knowles. The
good
news is that I absolutely loved it...I read it from NetGalley in about four hours. The
bad
news is that I hadn't read anything by Jo Knowles sooner - really looking forward to trying
Jumping Off Swings
and
See You at Harry's
.
Living with Jackie Chan
is about a high school senior, Josh, who moves in to live with his uncle right before his senior year. He got a girl pregnant back home, his home life is a mess, and he feels like relocating is the only way to give himself a fighting chance at getting his life back on track. His uncle, Larry, is a karate and Jackie Chan-obsessed nutjob, but he turns out to be exactly what Josh needs. He drags Josh to karate classes, where Josh meets their neighbor Stella, and develops a quick but complicated friendship. While navigating the ropes of a new school, new living situation, and a new friend, Josh is still coming to terms with the guilt that he feels over the pregnancy. It does not help matters that the people who live above his uncle have a baby - a constant reminder of what he did.
I loved the way
Living with Jackie Chan
unfolded, and the way it examined the dynamics of a boy/girl teen friendship, secrets, and reinventing ourselves. I do think it's a little mature for some of my students, but the novel focused more on the way the characters were positively changed than on the act itself, so I think it will be okay for most.
Also Try:
How to Save a Life
, by Sara Zarr;
Jumping Off Swings
, by Jo Knowles