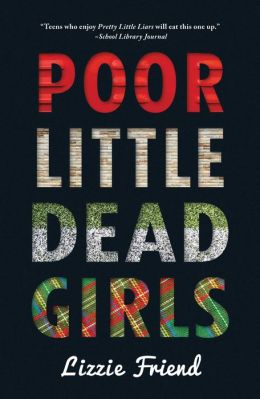 Secret societies, lacrosse, exclusive private boarding schools, and secrets are at the heart of
Poor Little Dead Girls
, by Lizzie Friend. Sadie Marlowe is essentially a "nobody" from Portland, Oregon, who's been extended a full scholarship to an upper-echelon, all girls boarding school called Keating. Her scholarship is for lacrosse, and Sadie is excited about the idea, but also nervous, knowing she won't fit in with the other girls, who have all led lives of privilege.
However, Sadie's worries are proven wrong, and she fits in all too well: she's pursued and inducted into a historic secret society called the Sullas - only the richest of the rich get into this society. From the get-go, Sadie feels mildly uneasy about participating in this society, but the members don't really give her a choice; not to mention the fact that the extravagances ($2000 ball gowns, anyone?) and lifestyle are hard to pass up. Before long, though, Sadie begins to see that the Sullas are not innocent - they're working on something deep and dark, something that may have caused the death of her mother - who also attended Keating - and another student named Anna. As Sadie uncovers the missing links and information, she's troubled with who she can actually trust and how she can bring the secrets of the Sullas to light without endangering herself or her friends.
I really loved this novel, and was drawn in from the start. The suspense that Friend built in was awesome, and the novel really kept you guessing. I do think, though, that it's a little too mature for my classroom - there's lots of bad language, drug/sex references, and some questionable topics. For instance, part of the Sulla's operation is that they harvest the eggs of their members in order to preserve an impeccable gene pool and create a perfect race. I think that this novel could spark some really interesting ethical discussion at the upper high school level, but it's not appropriate for my middle school students.
Also Try:
"Pretty Little Liars" series, by Sara Shepard;
The Disreputable History of Frankie of Frankie Landau-Banks
, by E. Lockhart